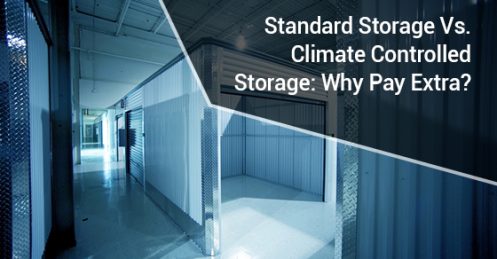 The Importance Of Climate Controlled Storage
Posted by Zoom Zoom Storage | 07-05-2018
When you make the decision to rent storage space, you're looking for a clean, secure, and convenient location to store your belongings. However, there are times when basic storage solutions are not sufficient for keeping your valuables safe. So, how do you know when you need climate-controlled self storage? And are the benefits worth the extra cost?
Climate-controlled self storage units are designed to maintain temperature and humidity year round. This prevents your valuables from being damaged. However, basic storage should be sufficient for most of your household, business, and yard items.
But for storing sensitive items such as electronics, furniture, musical instruments, art, and antiques, consider using climate-controlled self storage for the following reasons:
Protection from extreme temperature
As the seasons change, temperature changes too. Exposure to drastic temperature fluctuations can damage sensitive items made of metal, plastic, wood, paint, and glass. The extreme temperatures can also damage other items such as business documents, books, and fine art.
Storage units with climate control, on the other hand, are kept at a consistent temperature that is neither too hot or too cold. Some of the items that can benefit from storage in a temperature-controlled environment include:
Wood and upholstered furniture
Books and magazines
Important documents
Musical instruments
Electronics
Mattresses
Antiques
More protection with humidity control
The indoor and outdoor humidity changes constantly depending on the weather and climate. Very high humidity means that the air has a lot of moisture, which can cause valuables and furniture to warp, rot, or crack. Without humidity control, units can remain damp for months, promoting the growth of mould and mildew.
Anything stored in a humid environment with poor or no air circulation can be damaged and/or produce odour like it was stored in a basement.
Low humidity, which is characterised by dryness in the air during summer and winter, can also damage your valuables, like electronics, musical instruments, and wine, and even ruin your wood furniture, causing it dry out and splinter.
Many climate-controlled storage units offer humidity control, which means that they regulate the moisture in the air to maintain the base humidity at a healthy level of around 55%.
Pay more for the peace of mind
Climate-controlled storage units typically cost more than basic storage units for the temperature control, humidity control, and great air quality, which ensure that your valuables remain in good condition, no matter how long they are in storage.
For more information on climate controlled storage units near you, contact Zoom Zoom Storage at (905) 454-1866 (Brampton), (905) 709-3722 (Thornhill) or (905) 474-9666 (Markham). We have convenient locations across the GTA area to better serve you and your storage needs!
Leave A Comment