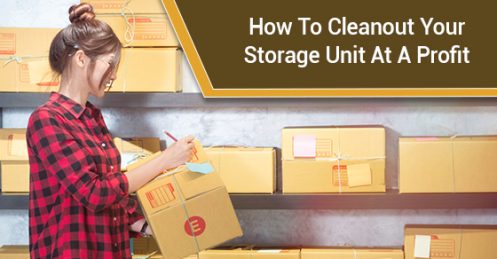 6 Ways To Sell Your Belongings You No Longer Need In Storage
Posted by Zoom Zoom Storage | 30-09-2019
Self Storage units are intended to provide a temporary, safe and secure place to keep your items for usually for up to 3-6 months as you work on a more permanent plan. If you abandon some items for much longer, it's possible that you don't need them anyway, or you would be better off selling them now and buying replacement items in future, if and when you need them.
Clean out your storage unit and make some money while you're at it, here are a few ideas to help you sell some of it items:
Word of mouthIf you have an item that your family members, relatives, friends, colleagues, or neighbours have been admiring for a long time, they might be willing to buy it from you. They can also help get the word out to others that might need anything. It's easier to sell to people you know because they're more likely to follow through than when dealing with strangers.
Garage saleThis is actually the most popular method of selling personal items. In fact, reports indicate that garage sales across the country generate over $4.2 million per week in revenue.
Craigslist This is one of the easiest ways to sell anything. You just list it and wait for interested parties to contact you. This option is mostly recommended for selling electronics and larger items such as yard equipment, furniture, and appliances.
Facebook People spend a lot of time on social media. Placing an ad on Facebook with images of the items you want to sell gives your friends the opportunity to sell your stuff fast. It's also a great way to get your friends and connections to help your ad reach as many people as possible and make a sale. You can also post the ad in Facebook groups to find an interested party who's near you to avoid logistics challenges.
Consignment stores This is a great option for selling high-end clothing, furniture, home decor, and purses, because there are people who go through consignment stores looking for designer items at a bargain. You share the profits with the seller, but don't have to do anything more after delivering the item.
eBay This is a massive e-commerce store with tens of millions of sellers around the world. You can sell just about anything on eBay, but collectibles, high-end attire, and smaller electronics tend to move faster. However, some people shy away from this platform because sellers are charged to list their items, regardless of whether or not those items sell, plus eBay takes a commission when you complete a sale.
Now all you need to do is set your prices, choose a medium, and start advertising.
For more information on self storage units available near you, contact Zoom Zoom Storage at (905) 454-1866 (Brampton), (905) 709-3722 (Thornhill) or (905) 474-9666 (Markham). We have convenient locations across the GTA area to better serve you and your storage needs!
Leave A Comment